While Machu Picchu is Peru's main attraction, it is not the only interesting thing to do in Peru. See below for ideas on other cool things to see and do during your Peru vacation.
Lake Titicaca – A short boat ride from the port in Puno, lie the floating Uros islands. The islands themselves, homes, schools, churches, watch towers, even boats are all constructed of tortora reeds. While this destination has become more touristy in recent years, it is still an incredibly interesting experience.
You can also participate in a home stay on several of the non-floating islands. I did a home stay on Amantani. I really enjoyed participating in daily island life. I hiked to the top of the island to see the sunset, watched a soccer game that pitted the island kids against the visitors (the kids won, although it was a close match), drank some of the best hot chocolate I've ever had in the sole store on the island, and danced to live music at an island get-together in the evening. Connecting with this ancient way of life can be an unforgettable experience that changes your perspective on your own life.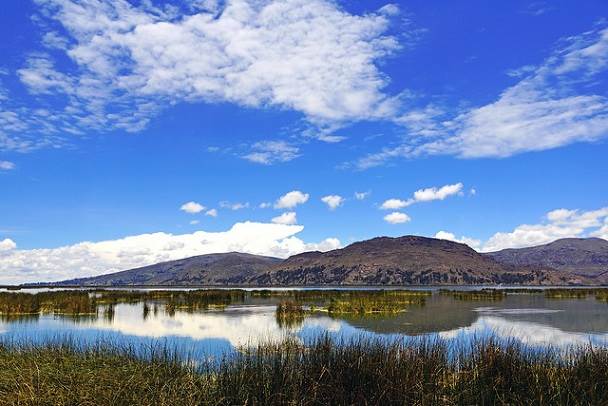 Lima – Most people pass right by Lima. If you skip Lima, though, you miss seeing how most modern day Peruvians live. For a truly local experience, lunch on ceviche in a neighborhood restaurant, stroll along the trail that tops the cliffs of the Costa Verde, or take a surfing lesson in Miraflores. If you feel really daring, arrange to hang glide. The only scary part was jumping off the edge of the cliff to become airborne.
Amazon – The Amazon Rainforest is a relaxing place to begin or end your journey to Peru. Spend your days scouting for wildlife such as howler monkeys, river otters, piranhas, and macaws, and learning about rainforest plants, such as natural Viagra. Sip juice made from fruits you've probably never heard of before. Afternoon naps in a swinging hammock are a perfect way to decompress.
Nazca Lines – The Nazca Lines form shapes, such as a dog, bird, astronaut, and monkey, which are best viewed from the air. The Nazca Lines are shrouded in mystery. No one knows who created the lines or why. No one knows how these lines, which have simply been scratched into the surface of the desert floor, have managed to remain visible through centuries.
Islas Ballestas – If you don't have the time to add a Galapagos extension to your trip, visit the Islas Ballestas. Here you can see blue-footed boobies, penguins, dolphins, and sea lions in abundance.
Ica – is home to the Huacachina sand dunes. You can sand board down the sides of these enormous dunes that make you feel like you've been plopped down in the middle of the Sahara. Similar to sledding, you use a refurbished snowboard to slide down the sides of dunes that surround a natural (now manmade) oasis. Dune buggies, which provide a roller-coaster-like ride through the dunes, transport you to higher and higher dunes to increase the thrill of the ride.