The Inca Trail is one of the most famous treks in the world that sits perched high on many an explorer's bucket list. This trek will not let you down, far from it. Before I begun the trail I had mixed emotions-excitement, expectation and would this trail live up to all the hype? It certainly did, put simply-I loved it.
I recommend that if you have ever thought about doing the Inca Trail, but never quite knew how to go about it, or what the trek would entail, then please carry on reading as I answer some of the most frequently asked questions.
My tip is to combine the Inca Trail with visiting some of the fantastic ruins and colourful artisanal markets in The Sacred Valley of the Incas before hand to help you acclimatise.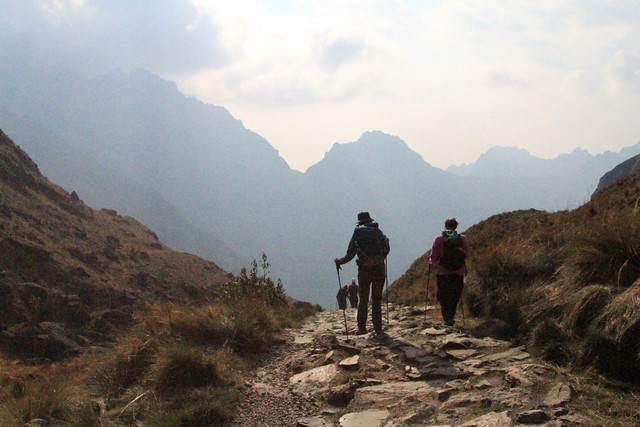 How many hours each day do you walk?
This does vary a little as some days are longer than others. The longest day is day two when you walk for approximately 7 hours. On average you will walk for 5-7 hours everyday, apart from the final day when you will walk for 2 hours.
Is the Inca Trail open all year round?
No. The trail closes in the rainy season for at least one month every year for maintenance and to allow the flora and fauna to recover.
Do I need to book in advance?
Yes. Due to high demands and a cap on how many can be walking the trail you should book it well in advance to avoid disappointment. Think Peru can organise all of this for you.
What is the best time to walk the Inca Trail and how cold does it get
The best season to walk the Inca Trail is from mid April to October as this is the dry season in the highlands. Temperatures vary between 19-26°C and can fall to below zero at night. For further detail on Peruvian weather have a look at these tables.

Where do you sleep?
Everyone will stay in tents that are provided by Think Peru's partners in Cusco. These will be assembled by our team of porters that will arrive at your campsite before you.
Do I carry my own bag?
We provide the groups with porters that will carry your tents and all the equipment and food for the trek. Most people carry a smaller rucksack containing their personal items like a sleeping bag, toiletries, changes of clothes etc. If you would prefer a porter to carry everything for you we can easily arrange this for you.
What do we eat?
You will not have to carry or cook your food for the duration of the Trail – you will be provided with three nutritious and high in carbohydrates meals every full day. The chefs will happily cater for vegetarians if we give them notice.
How many people will I walk with in my group?
Group sizes are limited to a maximum of 16 people per group.
What is the highest altitude on the Trail?
The highest point of the trek is Warmiwañusca or Warmihuañusca ("Dead Woman's Pass"), which stands at 13,800 ft (4,215 m) above sea level. You reach this pass on Day two.
What is altitude sickness (AMS)?
Acute Mountain Sickness (AMS) can occur to those walking the trail as it reaches high altitudes. AMS is a condition caused by a lower amount of oxygen molecules present in the air. In mild cases this leads to symptoms like Headache, Nausea & Dizziness, Loss of appetite, Fatigue, Shortness of breath and Disturbed sleep. The team at Think Peru meticulously plan our trips to giving you the best possible route that allows for gradual acclimatisation to the altitude. If however, AMS does strike you should continue to keep well hydrated and descend.