The Moche dominated northern Peru the first seven centuries of the so-called "common era." Sican civilization rose after the end of the Moche/Mochica era and lasted until conquest by Chimu (from further south) in 1375.
The Museo Tumbas Reales de Sipan (Royal Tombs Museum), opened in 2002 displays in very dramatic lighting what was found in two royal tombs in Huaca Rajada, which is 35 kilometers east of Chiclayo in the middle (north-south) of the large Lambayeque Valley.
The archeological record has been ripped out by treasure hunters, and it astounded Peruvian archeologist Walter Alva and those working with him to find and very careful excavate the crypt of a ruler dubbed the Lord of Sipan (El Senor de Sipan) in 1987.
Alva's 2003 book Sipan: Discovery and Research (an abbreviated version of the Spanish version, Sipan: Discumbrimiento e Invesigacion) chronicles the layers and layers and layers of gilded material above the skeleton, and the precious funerary goods — including human beings — entombed with him some 1300 years ago. Three women, three men (one a guard with a golden shield), a child, a dog, and two llamas (the larger, extinct coastal kind) were buried with him.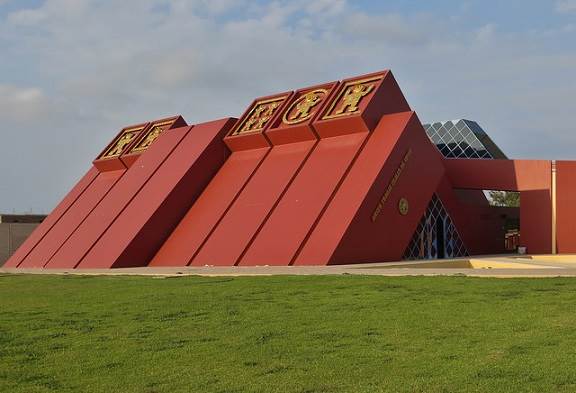 With placards only in Spanis, the museum similarly attempts to show and tell the process of archeological excavation as much as showing off the treasures buried with the "lord" and "the old lord" whose tomb was not as extravagant, though hardly lacking in gilded copper and having large stores of nourishment in myriad pots. He was also buried with a copper scepter with what seems to be a temple represented on top of it. Between this crypt of "the lord of Sipan" and that of "the old lord: was the tomb of a priest.
Recurrently, there are pieces displayed as they were found next to those that have been cleaned and restored. None of the artifacts on display are copies, all are originals. Restoration work was done at the Mainz Museum in Germany between 1988 and 1993. Funding for the museum by the Peruvian government was supplemented by proceeds from shows at UCLA's Fowler Museum, the Fine Arts Museum of Houston, the Natural History Museum of New York, the Art Museum of Detroit, and the Smithsonian Institute, along with shows in Tokyo and Bonn, so many people have seen some of pieces without traveling to Chiclayo.
There is a separate display of Moche golden objects returned to Peru after being seized in Europe or the US.
There is a surprise at the end, that I won't spoil.
Both display and security are state of the art.
The museum, designed (pro bono) by Celso Prado Pastor, aimed to capture (or reiterate) the spirit of Mochica sanctuaries. As can be seen from my photos of the exterior, the edifice is a massive truncated pyramid, albeit with diagonal slabs rather than horizontal levels of brick. The official explanation is that "five prisms are held together by leaning planes." If I had not taken the photo, I might think that the second one displaying here was a picture of a model rather than the completed brick-red building with Mochica emblems.
Visitors climb to the main entrance and then proceed down (following "Salida" (exit) signs).
No photography is allowed inside the museum. Visitors are swept with metal detector wands and ordered to check cameras. No one was doing anything when we were there, but there are pictures in Alva's book, which anyone who visits the museum and wants an aid to memory of what she or he saw there will want to acquire.
A botanical garden is planned for the future. Right now there is a sort of living history complex called the "Handicraft Mochica Village: in which traditional handicraft techniques of pottery-making and backstrap weaving are used. (No goldsmiths or coppersmiths, at least not you.)
The gift shop also sells reproductions of masks and turquoise-inlaid royal ear-rings and pendants.
The museum is open Tuesday to Sunday 9:00 -17:00. Adult admission is 15 soles (about $4.50US). The address is Av. Juan Pablo Vizcardo y Guzman s/n. in Lambayeque, which is 11 km north of Chiclayo — and well known to all Chiclayo taxi drivers.