Trujillo in the North of Peru isn't an obvious choice for travellers. It lacks the big tourist attractions that draw people to other parts of the country. However, if you have the chance to check out the city and its surrounding towns you'll be rewarded. I had the pleasure of living there for a couple of months and grew to love its busy streets, beachy towns and the no nonsense people of this often overlooked part of Peru.
Trujillo City is a busy place, getting on with its business and not stopping to pay too much attention to the odd gringo who drops by. It has some great markets and good nightlife in the bars near the central Plaza de Armas. However, if city living's not your cup of tea then a 10 minute bus ride will take you to the local beach town of Huanchaco. Huanchaco's most famous for the local fishermen's use of a 3000 year old technique for fishing using handmade reed boats known as Caballitos de Totora. I remember the first morning I saw a group of fisherman heading out on the water and realising that rather than being a gimmick for tourists, it was a cheap and practical way to fish.
The other big activity in Huanchaco is surfing. If you happen to sit on the beach of an afternoon, you'll be in for a treat as the local boys show off the skills they've honed through years of dedication. If on watching them, you feel inspired to pull on a wetsuit and get in the water, there isn't a better place on earth to take your first surfing steps. Huanchaco is blessed with the perfect set up for learner surfers. The beach is divided by a pier, to the left of which is a bay with baby waves where you can get to grips with paddling and shaky stands ups. Once you're good enough you can have a go at the waves to the left of the pier which are consistently big and when it picks up can be huge. The other thing that makes Huanchaco an appealing place for learners is the attitude of the local surfers. For those of you who've tried surfing, you'll know that packs of surfers can be a difficult bunch who have a tendency to be a bit shitty about newcomers encroaching on their waves. However, the surfers in Huanchaco are a really open bunch and I watched as they took newcomer after newcomer under their wings with welcoming smiles.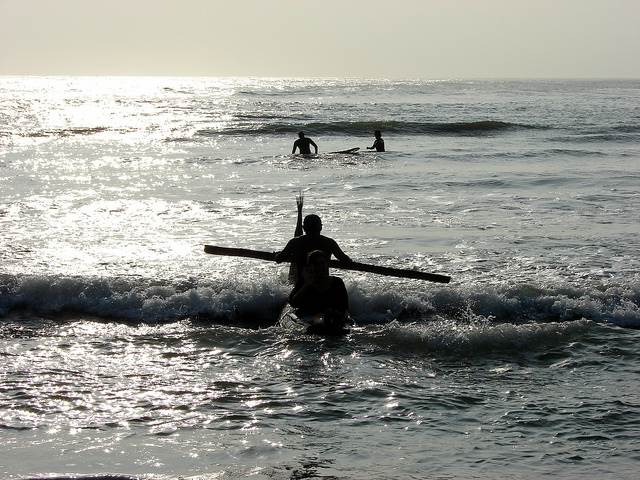 If enough people are willing, the locals will organise a trip to Puerta Chicama a fishing port about an hours drive away. As the local surfers will proudly tell you, Chicama is the longest wave in the world. On further investigation, you'll find out that it's actually the longest left-hand wave in the world, but that's still quite a claim to fame. Even if you're not a surfer, the sight of the waves at Chicama is something to behold. As one of my Peruvian friends said to me 'Es una macchina' and it's hard to disagree. It's as if nature decided to create the perfect neverending wave- repeatedly. Pretty as it is, surfing Chicama is really hard. Getting out to the point where you can catch a wave involves a herculean amount of paddling and all but the fittest of surfers will be tested. As a beginner surfer, I struggled, though this was more to do with fitness than ever feeling the waves were too big or dangerous.
In terms of food, the seafood in this part of Peru is great and in particular ceviche, a dish of raw fish in lemon juice. One of my favourite memories was being taken out by a local fisherman crab fishing. After a morning's catch, we headed back to his house where his wife prepared ceviche using the crabs and fish we'd caught earlier. I remember watching as she prepared it and it dawning on me that the fish wasn't going to be cooked. I was a bit wary but not wanting to offend , I gave it a go and was blown away by how good it tasted.
For those of you who don't have the time to take the slow paced approach to Trujillo and Huanchaco there's still plenty of quick hits to impress. This part of Peru has an abundance of historical sights such as the ancient city of Chan Chan and the Moche temples of Luna and Sol. However, for those of you who have enough space in your schedule, I'd recommend giving this part of Peru a little while to work its slow burning charm on you.