Since very old times, Huánuco has always been considered as "the relief of the travelers".  This is due to its strategic position inside the national geography that makes it the point of traffic between the coast and the amazon.  This region is located in a fertile valley, which can only be accessed through the mountains, it is seen by the tourists as an impressive and green landscape.
To Huánuco we can arrive through a branch of the Central Highway that goes toward the north of the Oroya.  In the middle of so much mountain, Huánuco is the entrance to the forest of Peru.
Near the paso of Cárpish, to 2700 msnm, taking the paved highway that leads to Tingo María , we find a paradise of flowers and plants that fill the valley with their fragance.  In the middle of these flowers its emphasized the Andean orchids and among them, one stands out that is very abundant and special: the epidendum .
This flower is a type of terrestrial orchid that climbs for the trunks of the trees to grow over other plants.  They do not need many nutrients to grow, for which they can be found on the oriental lands of the slope of the central andes.  It flourishes yearlong, for which it is known as wiñaywayna: always young.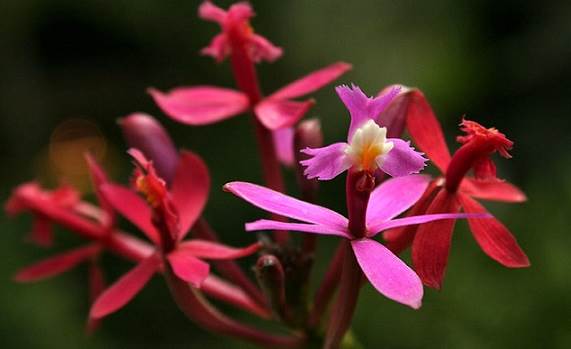 Natural beauty
Because in Huanuco exists the fog forests, all the plants fight for obtaining some sun.  Due to it, on the trees we will be able to observe not only the wiñaywayna, but also the bromelias, begonias and heliconas.  Nevertheless, the small orchids are the ones that attract more visitors, due to their exoticism and fragility.
They are not only a beautiful flower, but a wonder of nature.  Due to its need for food, these orchids have developed tree roots to be capable to collect more nutrients from the soil; also these roots support them as they rise for the trunks of the trees, taking advantage of the residues of other plants.
Because this type of flowers and due to its beautiful landscapes, Huánuco is considered to be "the relief of the travelers".