In the central district of Pueblo Libre, located 20 minutes from the center of the city, we find the Museo Larco Herrera, which contains within its installations a collection of more than 45 archeological pieces that illustrate the history of the Peruvian civilization, encompassing a period of 3000 years of Pre-Colombian art.
As we have described in previous articles, Pre-Colombian art centered on the perfection of the techniques of two main elements:  ceramics and metallurgy.  From Chavin to the Incan Empire, Peruvians knew how to invent the necessary technology in order to create complex alloys or ceramics with a very fine finish with the few natural resources available to them.
In the Museum, one of the main attractions is its famous collection of erotic art.  The ancient Peruvians, especially the Moches, did not have a lot of taboos about representing sexuality. In these we can find the man and the woman represented in detail and in them read the conclusions of the studies performed by archeologist, Rafael Larco, about this theme.
Another worthwhile exhibition to see is the Gold and Jewelry one. In here there is a detailed exhibition about the way how the diverse civilizations handled the metals in order to achieve the marvelous adornments that were offered to the gods. Special attention is offered to the ones created by the ancient Peruvians of the north who were the ones who most specialized in the theme, being one of the first to discover the technique of how to coat one metal with another.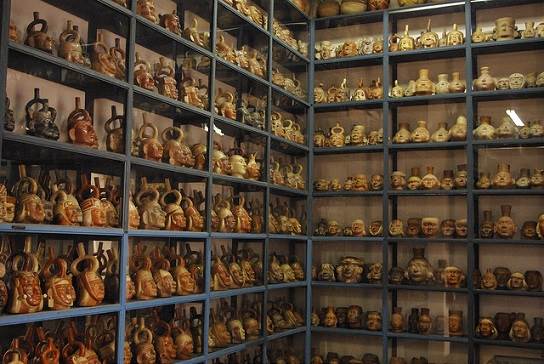 The Museo Larco  has the particularity of counting with a wide, highly detailed room where its entire cultural heritage is exhibited, which only 20% is in permanent display, in the main rooms of the enclosure. The rest is reserved to send out to other museums so that the world may know the icons of Pre-Hispanic art at a worldwide level.