Currency
The official currency is the Soles
(Sol), written as S/.. Daily fluctuations in the rate of exchange are very limited. At the time of this update the rate is US $ 1.00 = S/. 3.30.
There are ten and 20 cents coins, fifty cents and one nuevo sol coins, also two and five Nuevos Soles coins, as shown on the left.
There are bills 10 Nuevos Soles, 20 Nuevos Soles; fifty and one hundred and two hundred Nuevos Soles bills as shown below.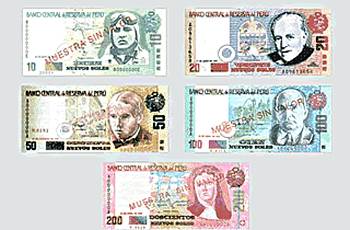 CHANGING MONEY
Foreing currency can be exchanged at banks and casas de cambio ( currency exchange agencies ) in all major districs. In addition, most hotels and street money changers doing brisk business in all avenues, will also do the job. Remember that, in general street money exchanges should be avoided, unless they beat a proper ID. Damaged or torn bill are not accepted or exchanged at a much lower rate. All major credit cards are generally accepted, although it is advisable to check in advance, some estableshiments surcharge 5% up to 09% for the use of a credit card.

TRAVELER'S CHECK
The best way to cash your Traveler's Check is at any branch of the Banco de Credito del Peru. They will give peruvian currency or US $ with no comission fees at all. Other Banks or "casa de cambio " cash with comision fees of about 2% to 7%, be aware, ask first.


BANKS DIRECTORY
All information displayed was proportionated by the SBS, Superintendencia de Banca y Seguros and is up-to-date June 16 2009, plese reffer to them for further information regarding official issues.
BANCO CENTRAL DE RESERVA
Antonio Miro Quesada 441, Lima
Tel. 427-6250 / Fax: 427-5880
http://www.bcrp.gob.pe

BBVA Banco Continental
Av. República de Panamá 3055 San Isidro, Lima 27 211-1000 / 211-1788 / 441-4187
http://www.bbvabancocontinental.com/


Banco de Comercio
Av. Canaval y Moreyra 452 – 454
San Isidro – Lima 27
5136000 / 440-5458


Banco de Crédito del Perú
Calle Centenario 156
Urb. Laderas de Melgarejo, La Molina, Lima 12
349-0566 / 349-0563 / 349-0638
http://www.viabcp.com

INTERBANK
Av. Carlos Villaran N° 140 La Victoria, Lima
219-2266 / 219-2119 / 219-2118
http://www.interbank.com.pe/

Scotiabank Perú
Av. Dionisio Derteano Nº 102, esquina con la calle Miguel Seminario Nº 370, San Isidro Lima 27
211-6000 / 440-7945
http://www.scotiabank.com.pe


CREDIT CARDS DIRECTORY

AMERICAN EXPRESS
Jr. Belén 1040, Lima
Tel. 330-4485 / 330-4482
Toll Free 001 800 8602908

MASTER CARD
Miguel Seminario 330, San Isidro
Tel. 422-3335 DINERS CLUB INTERNATIONAL
Av. Canaval y Moreyra 535, San Isidro
Tel. 221-2050

VISA
Av. 28 de Julio 873 Piso 3, Miraflores
Tel. 242-2975