Many foreign tourists and backpackers coming to Peru come to the BIG sites – Machu Picchu, Lake Titicaca, the Nazca Lines, etc. For locals though, great Peru travel is often about going to the beach. Beach resorts have popped up all along the coast, but for surfers and young people looking for a good night life, Máncora on the northern coast of Peru is THE place to go.
Máncora
Smack-dab on the PanAmericana and just a few hours south of the border with Ecuador, the small beach town of Máncora has less than 10,000 full time residents but has somewhere around 300,000 annual tourists. They flock here for a few reasons.
The Beach Resorts
While probably outside the budget of many backpackers, Máncora is most famous with Peruvians for their beach resorts. If you are looking for a splurge, definitely check them out. There are a number of them lined up along the beach outside of town and they are spread out enough so as to provide nearly deserted beaches, perfect for a relaxing beach getaway. The resorts range in price and quality but many provide gourmet restaurants, luxury accommodations, and even nightclubs.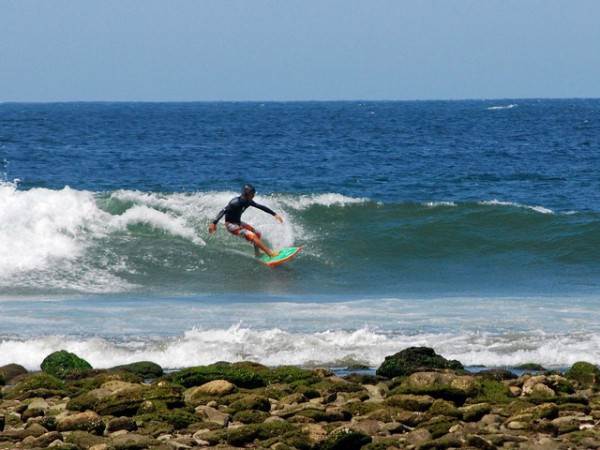 The Surfing
The surf community knows Máncora very well. Surfers from throughout the world come to surf these waves, especially during the high season between December and January when the conditions line up just right to produce very powerful waves. If you are a beginner or hoping to take lessons, don't come during these months. These are big waves and many surf shops wont even rent out boards in December or January because they are likely to be broken or lost in the rough water. With that in mind, also be careful swimming. The current can be very strong.
Besides surfing lessons, you can also sign up with kitesurfing and diving courses in Máncora.
The Nightlife
Máncora has a very high number of bars, nightclubs, and other nightlife venues considering how small the town is. While other beach resorts might attract a family crowd or retires looking for a relaxing beach environment, Máncora attracts mainly attracts a younger crowd. From beach bum surfers to Peru's young elites and celebrities, Máncora has quite a mix of visitors but they all seem to enjoy a good night out.
Couple Travel Tips
It is best to stay either in one of the beach resorts or in hostels in the very center of town. The outskirts of town, where there are a few cheap hostels, are not the safest areas and the money you save staying there will be used taking taxis back and forth from the center of town where most of the bars and nightclubs are located.
Definitely check out the craft market in the center of town. Shop here and avoid the beach salesman to get the best products and prices.
As far a safety goes, always stick together as a couple when you go out for the night. Drugs are very common here and there have been reports of girls being drugged at bars and backpackers who had a bit too much to drink being robbed once they left the bars.
There are several couple activities including horseback riding on the beach.