More than 100 years ago in the dead of winter, one explorer's search for the "lost city of the Incas" came to an end, when, with the help of Andean farmers, he discovered, what up until then was folklore and fable. The day: July 24, 1911. The man: Hiram Bingham III. The discovery: Machu Picchu.
"Suddenly we found ourselves in the midst of a jungle-covered maze of small and large walls," Bingham penned in an article about his adventure for Harper's Monthly in April 1913. "Surprise followed surprise until there came the realization that we were in the midst of as wonderful ruins as any ever found in Peru. It is possible that not even the conquistadors ever saw this wonderful place."
The truth is, they didn't. Also truth is that, while "lost" to the outside world, locals knew all about Machu Picchu; Hiram's "discovery" just confirmed what was long speculated in the developed world, thus putting the Inca citadel on the map.
Nowadays, Machu Picchu is the most traveled destination in South America and one of the most visited places in the world.
While Bingham's journey was arduous – it required hiking great lengths and hacking through the foliage that had overgrown Machu Picchu in the near half a millennium since the Inca's abandoned it – getting there nowadays is a scenic and relaxed pilgrimage made by around a million people every single year.
Planes
Before I began planning my Machu Picchu adventure, I thought I would just hop off a plane, mosey on over to Machu Picchu and stroll in. I didn't realize that I had to take a plane to Cusco, a train to Machu Picchu Pueblo and then a bus to the actual ruins.
While the closest airport is in Cusco, Peru is in the works to build one closer to the ruins in the colonial town of Chinchero. This is a controversial topic among conservationists, tour operators, government officials and tourists alike. For this reason, the groundbreaking keeps getting pushed back, (though its projected completion date is 2020).
Finally, if you dreamed of getting a bird's-eye-view of Machu Picchu, you're in store for a letdown – the days of actually flying over the ruins via helicopter are over.
No matter what, you will need to get to Cusco before you can get to Machu Picchu. The fastest most comfortable way is by plane. LATAN Airlines offers more flights to Cusco than any other airliner, with dozens of arrivals via Lima, Puerto Maldonado and beyond every single day.
Trains
The journey from Cusco is just over three hours, while the ride from the Sacred Valley is about 90 minutes and it'll take two-and-a-half hours from Urubamba. All of the trains have window seats, so be sure to request one when you book your tickets for some really amazing scenery.
Peru Rail
For the last decade Peru Rail has transported more than nine million travelers from the modern, colonial city of Cusco (the actual station is actually in the town of Poroy) back in time to the Inca civilization, Machu Picchu. While all the trains, which also depart from the Sacred Valley and Urubamba, take the same set of tracks, they vary in levels of service.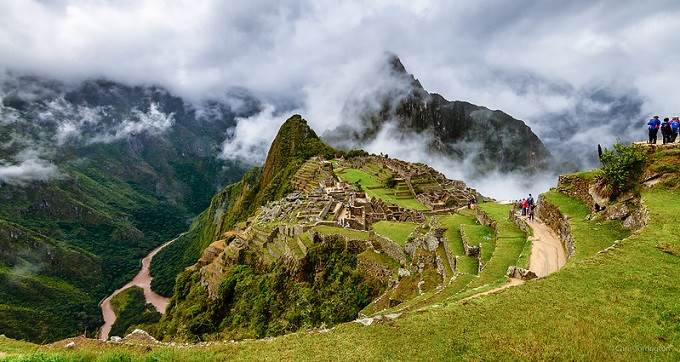 Expedition – For the no-frills passenger, the Expedition is the best choice. Included are a snack and drink service. Trains depart daily from Cusco (Poroy) and the Sacred Valley.
Vistadome – These trains have panoramic windows to take in the beauty of the Andes. Included are a light meal and drink service. Vistadome trains have a bit more leg room than the Expedition trains and reclining seats provide a more comfortable experience. Trains depart daily from Cusco (Poroy), Urubamba and the Sacred Valley.
Belmond Hiram Bingham – A complete 180 from the experience of the man who discovered Machu Picchu, the Hiram Bingham train is the most luxurious (and expensive) in Peru Rail's fleet. Included are a laundry list of posh amenities, as well as a tourist guide, and entrance tickets and transportation to Machu Picchu.
Inca Rail
The alternative to Peru Rail is Inca Rail. These trains only depart from their station in Ollantaytambo, so if you are in Cusco or the Sacred Valley, you will have to take a taxi, bus or colectivo to the station. While the tickets are slightly less expensive via Inka Rail, the service is just as nice.
Machu Picchu Train – For the no-frills passenger, the Machu Picchu Train is the best choice. Included are a snack and drink service. Trains depart daily.
Inca Train – These trains offer varying levels of service, from executive service to first class to presidential class. Included are light meals, full meals and gourmet meals, respectively. Inca Trains depart daily.
Inca Princess – For passengers who want their journey to Machu Picchu to ooze class, the Inca Princess is the train you want to be on. Included is a welcome bottle of sparkling wine, a five-course tasting menu and an open bar. Trains depart daily.
Automobiles
Train service to Machu Picchu ends in Machu Picchu Pueblo (formerly Aguas Calientes). From the train station, you can hike the road to Machu Picchu, which will take around two hours of traversing winding paths at a steep incline.
Alternatively, you can take the bus. The 20-minute bus ride is breathtaking, so again, nab a window seat and have your camera ready. They consistently depart throughout the day. The cost for a round trip ticket is USD$19.
Machu Picchu Pro Tips
Book early – There are only a certain number of seats on each train and there are a limited number of train departures each day. Trains fill up fast, especially between the months of June and August. The lesson: book early!
Nab a window seat – No matter what train or class you book, window seats will be available. If you want to snap shots that will take your breath away, be sure to request a window seat when you make your reservation.
Pack snacks – The journey to Machu Picchu is a long one. Pack some snacks in case you get hungry on your way there or back (though keep in mind, you can't take food into Machu Picchu, so whatever you don't finish will have to be tossed or stored in a locker).
Be mindful of the seasons – Rainy season in Cusco, the Sacred Valley and Machu Picchu is December through March. You could get lucky and get nothing but sunshine; you could also find yourself in a torrential downpour of dime-sized raindrops and hail. Delays and cancellations are the norm and sometimes, tracks end up getting washed away, barring train travel all together. If you don't want the weather to rain on your parade – er, pilgrimage – plan your journey for the dry season – June through September.
Get your Machu Picchu tickets – Buy tickets to Machu Picchu can be a bit confusing. Read my story on "How to Buy Machu Picchu Tickets" for an easy, step-by-step guide to DIY tickets (it'll save you cash!).