In order to really take in everything Machu Picchu and the surrounding Cusco region have to offer – their Andean peaks, Inca ruins and seemingly endless adventure – you'd have to spend weeks in the area. While experiencing the ins and outs of the region is worth it, the truth is, most vacationers don't have that kind of time. The good news is, a trip to Machu Picchu doesn't have to be all or nothing. If you are just passing through Peru on a business trip or a long layover, you can make it to Machu Picchu and back to Lima for your flight home in less time than it'll take you to binge watch the first two seasons of "Friends."
Note: LATAN has flexible flight times that can suit even the tightest of vacation plans. This is a mock itinerary meant to show you that Machu Picchu is a possible feat even on the shortest of time budgets. Feel free to copy it and change the times and activities to suit your needs.
LATAN Airlines – Peru's Leader in Air Travel
LANTAN Airlines has nearly two dozen daily flights from Lima to Cusco. This availability grants you the flexibility to plan a quick trip to Machu Picchu based on your schedule needs. It also means that if you miss your flight, or if it is delayed or canceled, your plans aren't completely ruined (pun intended).
LATAN Airlines starts flying to Cusco before the sun even rises (5:00 a.m.), with flights departing every 30 minutes or so until 5:50 p.m. You will, of course, choose the flight that's right for you.
This story, however, mirrors an itinerary I built for a friend who had to fly to Cusco, train to Machu Picchu, take in the ruins and return to Lima to make it in time for his flight back to the states … all in less than 36 hours.
Peru Pro Tip: Only take carry-on items on this trip. The last thing you want to be doing is waiting for luggage to arrive. If you have large bags that would otherwise need to be checked, consider storing them in Lima's Jorge Chavez Airport lockers.
Day 1
5:00 a.m. (Stopwatch 00:00)
Book yourself on the very first LAN Airlines flight out of Lima. It takes off every morning at 5:00 a.m. and lands in Cusco by 6:20 a.m.
6:20 a.m. (Stopwatch ≈01:20)
Arrive in Cusco and catch a cab (about a 30-minute drive) from the airport to Peru Rail's Poroy train station.
6:50 a.m. (Stopwatch ≈01:50)
You will have booked the 7:42 a.m. departure on the Expedition train in advance. Make sure you've got your tickets printed and your passports in hand – you'll need both to board.
Peru Pro Tip: Our Machu Picchu travel guide will break down how to get to the ruins via planes, trains and automobiles.
7:42 a.m. (Stopwatch ≈2:50)
Board the train, sit back and relax. Keep your camera handy – these tracks twist and turn through some beautiful backcountry. The seats recline so you can either take in the views or take a nap. Be sure to have the light breakfast included with your ticket to stave off hunger later in the day.
10:51 a.m. (Stopwatch ≈6:00)
Get off the train and make your way to the bus station. The bus ride from the base of the mountain up to Machu Picchu will take 20-30 minutes.
Peru Pro Tip: Get the low down on how to buy tickets to the ruins with our guide on How to Buy Machu Picchu Tickets in 7 Easy Steps.
11:20 a.m. (Stopwatch ≈6:30)
After rushing about all morning you are finally here – the gates of Machu Picchu. If you have bulky bags, you can leave them at the on-site baggage check.
Enjoy the day at Machu Picchu as you choose. You can hire a private guide or join a group for a tour of the grounds. Alternatively, you can show yourself around.
Neither food nor drinks are permitted inside the ruins, however, there is a fine dining restaurant and a casual dining cafe just out front. Keep your entrance ticket so you can go in and out of the ruins as you need, whether it's to use the restroom or grab a bite to eat.
4:00 p.m. (Stopwatch ≈11:00)
After spending the full day learning about this architectural relic, and getting your photo op before the ruins, it's time to go. Machu Picchu closes at 5:00 p.m. To make it back to Cusco tonight, you have to leave at 4:00 p.m. Board the same bus you rode to the top to descend back down to Machu Picchu Pueblo.
4:30 p.m. (Stopwatch ≈11:30)
It has been a whirlwind of a day. You will likely be hungry and tired, but hey, it's so worth it. You've experienced one of the most magnificent wonders of the world.
At this point you will have chosen (in advance) either to spend the night in Machu Picchu Pueblo (where the train station is) or board a train to Cusco (Poroy). Both have the benefits and drawbacks.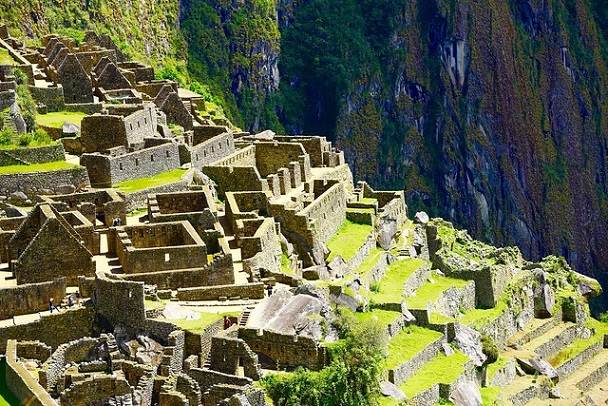 Staying in Machu Picchu Pueblo: It's been a long day. Now you can unwind (with dinner and maybe a chilcano!) and catch some Z's before taking the train ride. The problem is this – there are no direct routes to Cusco until the afternoon. If you choose this option, you will need to take the train from Machu Picchu Pueblo to Ollantaytambo, and then take a bus or private car from Ollantaytambo to Cusco. If you choose this option you may stay until the park closes at 5:00 p.m.
Staying in Cusco: You're on a roll. Why not head back to Cusco the same night if you want to see a bit of the city the next day before you leave? The last direct trains out are the Vistadome at 5:23 p.m. or Hiram Bingham at 5:50 p.m. (quite expensive).
5:23 p.m. (≈12:30)
Board the train back to Cusco. Most of the ride will be dark, providing a great opportunity to take a nap after a hectic 12 hours.
8:50 (≈16:00)
You made it! It was many intense hours, but alas, you survived. Now have some dinner, check into your hotel and rest up. The adventure isn't over yet.
Day 2
The time you book your flight out of Cusco is reliant on what time you need to be back in Lima for the next leg of your flight. Flights start taking off from Cusco at 5:25 a.m. and continue through to 7:20 p.m. Many international flights to the U.S. and Europe take off at night. If you can, book a later flight from Cusco to Lima so you can enjoy some time in Cusco City before you head home.
9:00 a.m. (≈28:00)
If you have the time, head to Cusco's Plaza de Armas. Have a coffee and do some people watching. Consider taking a tour of the Cathedral, the nearby Inca ruins of Saqsaywaman or the open air bus tour.
12:00 p.m. (≈31:00)
Grab a quick lunch near the plaza. Then pick up your last minute souvenirs and hail a cab. The ride to the airport will take half an hour. You should be there at least two hours before your scheduled flight (3:20 p.m. for purposes of this story) takes off.
3:20 p.m. (≈34:20)
Fly from Cusco to Lima. The flight time is about 1:30.
4:50 p.m. (≈35:50)
Arrive in Lima. You are probably exhausted but totally exhilarated. Take a load off at the airport while you wait for your flight out of Lima to your next destination. Inside the airport there are many restaurants, a lounge and even a mini spa where you can get a manicure or massage.