Lima doesn't exactly have the best reputation in terms of Peru travel. Guidebooks warn of the city's crime, scams, and bad neighborhoods. Travelers tend to make a beeline out of town, heading to the more popular destinations like Cusco or Lake Titicaca. The city is big, dusty, and dry, but behind its initial roughness, Lima actually is home to a number of great attractions and neighborhoods.
The Peruvian government has worked hard over the last few years to improve the image of Lima to tourists and locals alike, spending millions of dollars on restoring and renewing the city center. There is still quite a bit of debate over whether or not all this money was wisely spent, but it has produced at least one interesting and fun attraction – El Circuito Mágico del Agua.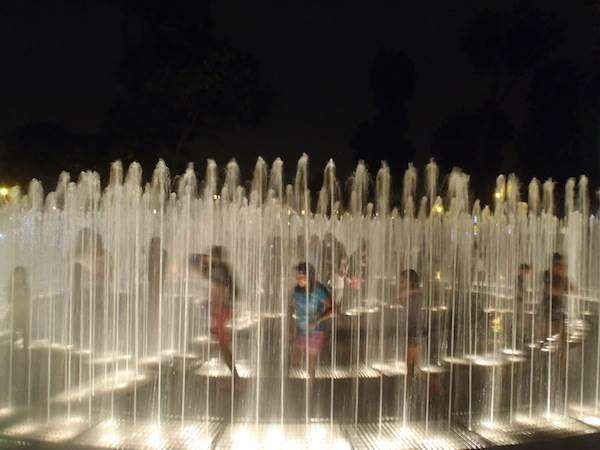 Rebuilding the "Park of the Reserve"
Known in English as the "Magic Water Tour" or "Magic Water Circuit," this former public park was reopened in 2007 as a water fountain park after a US$13 million dollar renovation. Originally the park was known as the Park of the Reserve and was named in honor the last soldiers who fought in the battles of Miraflores and San Juan during the War of the Pacific. During and after construction of the park, controversy plagued the project as locals saw it as a destruction of a historical park and were against the entrance fee that was added to park after it reopened.
Since opening though, the park has proved to be a great hit with both locals and tourists to the city. Less than a year later, the park had already received over 2 million visitors and was only growing in popularity.
Visiting the Park
El Circuito Mágico del Agua is centrally located in Lima, between two of the city's main streets – the Paseo de la Republica expressway and Arequipa Avenue. It is adjacent to Peru's National Stadium and a short cab ride from Miraflores. The park is opened Wednesday through Sunday from 4pm to 11pm. After dark is when the real magic begins though as all the fountains light up. There is also a half hour long water show at the park's largest fountain on the hour, every hour after nightfall. Entrance to the park is incredibly cheap at around 5 soles or less than US$2.
The Fountains
El Circuito Mágico del Agua is more than a famous Lima attraction; it actually holds the Guinness World Record for being the largest public water fountain complex in the world. There are 13 different water fountains and many of them are interactive. A few of the fountain highlights are:
Fantasy Fountain
This fountain is where the nightly water shows happen. The shows use a complex combination of water fountains, lasers, music, and movie projectors on walls of water to create an entertaining and educational show about Peru and it's culture.
Rainbow Fountain
Using a series of individual fountains and colored lights, this fountain, the first that you will see upon entering the park, creates a beautiful rainbow effect.
Magic Fountain
This is the largest fountain in the park. It has a center jet which shoots as high as 80 meters.
Tunnel of Surprise Fountain
This fountain uses individual red colored jets to create a 35 meter long tunnel that you can walk under without getting wet. Be careful with your camera though; if anyone touches the water fountain streams, they jet off in random directions and will soak anyone nearby.
Couple Travel Tips
Be sure to take warm clothing that dries quickly! The nights in Lima can get chilly and you are almost sure to get a little wet.
If you have an expensive camera, you might also want to wrap it up or use a water case. People can get a little rowdy around the fun, interactive fountains and you might accidentally get splashed.
For fun couple pictures, try turning off the flash and using the fountain lights to create interesting silhouette poses.