Arequipa, also known as the White City because many of its buildings are constructed from the white rock and ash of the three surrounding volcanoes, is in the south of Peru.
If you are planning a visit to Arequipa during your trip to Peru, make sure to include these five best-of-Arequipa activities on your must-do list.
1) Visit Santa Catalina Monastery. Stepping through the doors of this four-centuries-old monastery feels like stepping back in time. You can almost hear the hushed whispers of the sisters echoing through the labyrinth of streets. The monastery, which is built of white volcanic rock and ash, has its own guides. Your guide will walk you through the maze-like structure and tell you stories about what life was like behind the cloistered walls. One surprising fact I learned is that many of the nuns were daughters of nobility. Vows of poverty not withstanding, their simple rooms were furnished with rich tapestries and fine china. Many also had personal servants.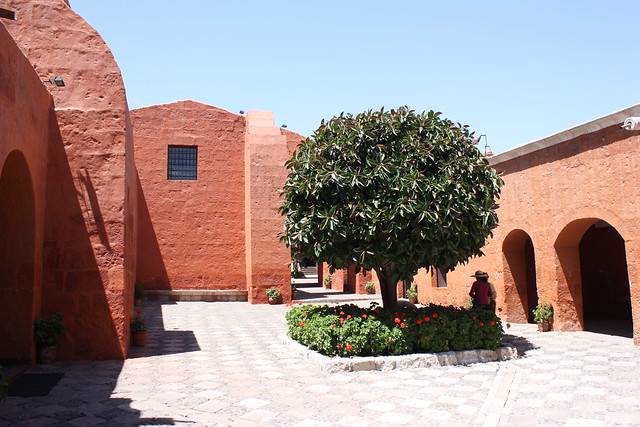 2) See the Mummy Juanita. Housed behind a thick layer of glass in the Andean Sanctuaries Museum, you can see the mummy of Juanita curled up as if she were sleeping. Juanita, or the Ice Maiden as she is known, was most likely the daughter of Inca nobility. As a teenager, she was sacrificed to the Inca gods in the 14th century and buried at nearly 21,000 feet on the icy slopes of Mount Ampato. The well-preserved condition of her body, which was found in 1995 by Johan Reinhard and Miguel Zárate, caused a stir in the scientific community. In fact, Time Magazine chose it as one of the world's top 10 discoveries that year.
3) Tour Sabandia. The flourmill at this country estate was built in the 16th century of volcanic rock. Beside it sits a fully furnished colonial house. Both offer glimpses into what life in Arequipa must have been like during the colonial era.
4) Dine in the Main Square. I love to people watch from the balcony while I dine at one of the second-floor restaurants. Make sure to order a Solterito salad.
5) Order Tres Puntas bread. Pan de tres puntas is a triangle-shaped bread with a crispy crust. It is often prepared in big wood burning clay ovens. The triangular shape of the bread is meant to resemble, El Misti, the largest volcano overlooking the city.
We'll be adding Arequipa to our Peru 2019 itineraries very soon.