Machu Picchu, the lost city of the Incas, isn't easy to get to. Even the Spanish Conquistadores never stumbled across it as they traversed their way across Peru in their quest for gold. Thankfully nowadays the journey isn't nearly as arduous.
All roads to Machu Picchu begin in Cusco. From there, there are four popular options for traveling to Machu Picchu.
Hike the Inca Trail. The approximately 26-mile trek begins in the Sacred Valley and ends at the Sun Gate in Machu Picchu. During the multi-day trek, you summit two nearly 14,000 foot mountains and hike through a variety of microclimates, including the world's highest cloud forest.
In addition to the spectacular scenery, you explore long abandoned ruins that hint at what life must have been like during the time of the Incas.
The Inca Trail is not for the faint of heart, though. It is a heart-pounding, leg-shaking trek for the physically fit. However, it is also an unforgettable experience that many still speak of years later.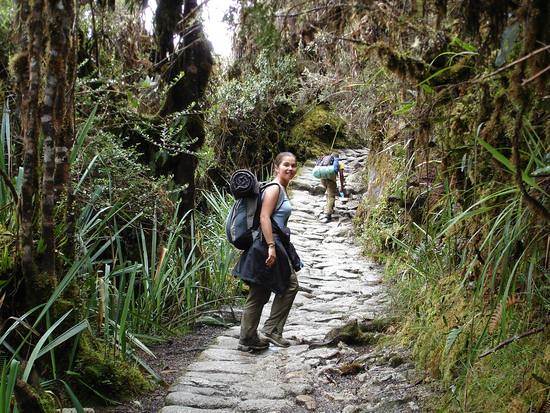 Take the train. For the more leisurely-minded traveler, the train is an excellent option. On the train, you can relax with a warm cup of coca tea as you watch breathtaking views slide passed the enormous windows. Train attendants even take time out to model all manner of alpaca-wear from sweaters to capes.
There are two train companies: Peru Rail and Inca Rail. Both offer a similar service at a similar price point.
Hike and take the train. If you can't get permits for the Inca Trail, two popular alternatives are to hike through the Lares Valley or over the Salkantay Pass.
In the Lares Valley, you can hike with llamas through remote, rural communities. The interaction with local people can really change your perspective on your own life.
The Salkantay Pass is dotted with luxury lodges that provide a welcome respite from the rigors of camping.
Both treks end short of Machu Picchu. So, you need to take the train to complete the journey.
Horseback ride and take the train. Equestrians also have the option of riding over the Salktantay Pass and into the jungle. They can stay at the same luxury lodges as the hikers.Like the hikers, they board the train at the hydroelectric station to arrive at Machu Picchu.