Erstwhile capital of the Inca Empire and UNESCO World Heritage site, Cusco in the southern Sierra Mountains of Peru remains a fascinating city with a rich history and endless plazas, hills and winding cobblestone alleys to explore. It is a collision of centuries-old Spanish architecture, foreign-tailored cafes and restaurants, and indigenous culture that remains widely unchanged since the days before the Conquistadores. Whether you're an aficionado of pre-Columbian history, on the lookout for affordable hand-knit alpaca products, or just passing through on your way to Machu Picchu, Cusco has something to intrigue everyone.
For nature-lovers, an absolute must-see during your visit to Cusco is Sacsayhuaman (Saqsaywaman), an archaeological site that includes various ruins, most famously those of the fortress from which Manco Inca II and 200,000 warriors marched on the city in 1536 in a failed attempt to oust the Spanish. Today, Sacsayhuaman is a favorite site of locals for jogging, tai chi and rambling nature walks, and if you arrive early enough (before the park officials get there), you can get in for free. Another widely visited site is the Sacred Valley of the Incas, an area outside of Cusco which has many ruins, produce and artisan markets, and hikes along the mountains and Urubamba River. Many travel agencies around the city offer daytrips to the Sacred Valley for around $25 including lunch.
Of course, if there is one historic Inca site to visit while in Cusco, it's Machu Picchu. Peru's most fully preserved Inca village—it was so well-hidden in its mountaintops that the Spanish conquistadores never found it—Machu Picchu has been named one of the Seven Wonders of the World, and rightly so. The site is an eight-hour drive from Cusco via hired van, so unless you hike the Inca Trail, which must be booked months in advance, you will be forced to spend the night in Aguas Calientes. The ultimate tourist trap, Aguas Calientes knows it holds the proverbial keys to Machu Picchu, and it takes full advantage of that fact. Restaurants, hotels and souvenirs can be five times as expensive as they would be in the rest of Peru, and proprietors will often add an extra 20% to your bill without telling you, calling it "local tax." Throughout Cusco you can find travel agencies offering treks of various lengths that end at Machu Picchu. Flamenco Tour Operator and Peru Golden both offer economically-priced excursions and jungle tours, but keep in mind that the more expensive, i.e. catering towards foreigners, your tour agency is, the more of a likelihood there is that things will go smoothly.
Once you've had your Machu Picchu experience, be sure to give yourself a chance to fully explore the city of Cusco. Start off with the San Pedro Market, open all day long and free to wander through. If you want to buy knitted alpaca products and other artisan goods, this is the place to do it—you can get woolen hats, mittens, socks and legwarmers for around $3, while a full-length knitted sweater might cost around $15. (For even lower prices, there is an artisan market a 15-minute walk from the city center down Avenida del Sol, or you can attempt to bargain with the San Pedro vendors.) If you're looking to buy fresh fruits, vegetables, herbs, coca leaves, nuts, bread, Andean cheese, pork, lamb, poultry and even frogs, they all can be found at the San Pedro Market.
Cusco is also a treasure trove of historic churches, monasteries and museums. Many of these, such as the churches surrounding the central Plaza de Armas charge a single fee for visitors. Others require you to purchase the boleto turístico from the Oficina Ejecutiva del Comité, a tourist office located at Avenida El Sol 103—the full ticket lasts for ten days and costs roughly $40, but a discount is offered for students or for a partial ticket. Notable museums that this fee covers include the Museo Histórico Regional on Calle Heladeros, Qoricancha, the Sun Temple, the Museo Municipal de Arte Contemporáneo, and Santa Catalina Monastery. If you only have time for a few museums during your trip, be sure to include the Inca Museum just off of Plaza de Armas as well as the Central Museum of Traditional Textiles—not only does it show you the history and craftsmanship behind Cusco's weaving and knitting industries, but a great deal of the proceeds go to local women who make the textiles. The Museo de Plantas Sagradas, Magicas y Medicinales on Calle Santa Teresa can also be an interesting experience for anyone interested in the history behind the ceremonial use of coca leaves, ayahuasca, San Pedro, and other medicinal plants of the Amazon rainforest.
Aside from all the museums and galleries, be sure to set aside an afternoon just to walk around Cusco and take in the chaos and the blend of Spanish and Inca culture. A good way to do this is to join a walking tour from Plaza de Armas, which will take you to see all the key sights of the city center as well as the neighborhood of San Blas, where you will find plenty of museums, restaurants and artisan shops, as well as some of the best views in Cusco. These tours are free, but be sure to tip your guide afterwards. If you're looking for more of a daytrip outside the city, head to Písac, a town that has ruins, hill-walks, an old cemetery and an artisan market— the entrance fee is covered by the boleto turístico.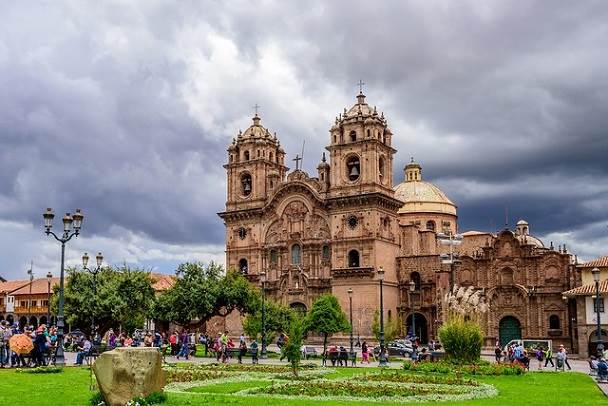 Eating & Drinking
Peru is known to be the culinary Mecca of South America, so while you're in Cusco be sure to try as much of the local fare as you can. Fortunately, meals are incredibly cheap—most restaurants outside the city center offer house lunches of two or three courses for less than $3, and even the most expensive restaurants range around $9 – $10 per dish. The one dish you absolutely must sample is ceviche, which is raw seafood (generally river trout, as Cusco is far from the ocean,) marinated in lime juice and served with finely diced onions and cilantro, usually garnished with a wedge of sweet potato and toasted corn. It is simple and delectable, and while surrounding countries have their own take on it, none of the imitators holds up to the classic Peruvian ceviche.
For a traditional, inexpensive ceviche of around $4, go to the back of the San Pedro market, where the locals gather to eat lunch—there you'll find a row of miniature cevicherias, as well as stalls serving other traditional cuisine that will serve you your meal to order. In the streets leading away from the city center, you'll also find plenty of local family-operated restaurants offering a Menu del Día for roughly $1 – $5. These consist of a starter, generally a soup made with quinoa, a main course, which will most likely be a plate of chicken, rice and French fries, a drink, and sometimes a small dessert. As tempting as a full lunch for $1.50 may be in this case, stick to the $3 – $5 range, where you're more likely to get quality meal rather than an enormous plate of white rice with a tiny portion of chicken and iceberg lettuce.
Many restaurants also serve cuy, a traditional Andean dish of spit-roasted guinea pig. A little more comfortable to most foreigners' palates is alpaca, which can be served in steaks, burgers or pan-fried. Chicharron, deep-fried pork ribs, are ubiquitous throughout South America but it is said that Peru does it best, and for the best chicharrones in Peru, catch a kombi for 30 cents to Saylla, a small town that has a festival every Sunday. To drink, try the Peruvian beverage chicha morrada. It's made out of blue corn, giving it a deep, purple color, very lightly spiced and sweetened with fruit, giving it a taste vaguely like nonalcoholic mulled wine. Other simple but delicious traditional meals you'll find are lomo saltado, pan-fried steak with onions, tomatoes, and seasonings, served with the inevitable mound of white rice, and papa relleno, a twice-baked potato stuffed with various fillings such as beef, vegetables, spices, and a hard-boiled egg.
Where To Eat
Aldea Yanapay
Calle Ruinas 415
Peruvian, Thai, Moroccan food, proceeds go towards homeless children in Peru
Inka Grill
Traditional Andean cuisine, centrally located on the Plaza de Armas Portal de Panes 115
Paddy's Irish Pub
Calle Triunfo 124 on the corner of Plaza de Armas
Highest 100% Irish-owned pub in the world, great food from $5 – $6, passable Guinness and decent Jameson
Shaman Restaurant
Santa Catalina Ancha, 366-B
Vegetarian, vegan, and raw food with a New Age atmosphere, house meal $6 – $7
Where To Stay
Casa San Blas Boutique Inn
Tocuyeros 566
Standard Single or Double: $120, Suite: $190 – $240
Tierra Viva Cusco Plaza
Calle Suecia 345
Single Room: $80 – $110, Double Room: $90 – $120
The Piccola Locanda
Calle Resbalosa 520
Private rooms from $30 – $64
Hotel Marqueses
Calle Garcilaso 256
Centrally located, Single Room: $70 – $90, Double Room: $90 – $120
Practicalities
Getting There:
The closest international airport to Cusco is in the capital city, Lima. From there you can take a domestic flight via LAN Peru or Avianca Peru from $110 one-way. Alternatively, you can take a bus—be warned, a bus from Lima to Peru takes roughly 20 hours, so be sure to shell out for the first-class seats, semi-cama or full-cama, which give you reclining seats and more legroom. Cruz del Sur and Mobile Tours are two of Peru's most reliable and comfortable bus companies, and a one-way ticket in first class will cost around $35 – $40.
Visas:
Citizens of Europe, the United States, Canada, and Australia are able to enter on a free 90-day tourist visa. For those looking to stay longer, you can leave Peru and then return for another 90-day tourist visa, but once that expires you can't return for a year.
Getting Around:
Walking through Cusco is the best way to see it up close, but traffic can be chaotic and its many hills can make long hikes difficult. Taxis are inexpensive—you should be able to get anywhere within the city for $3 – $4, as long as you ask for the price beforehand. Kombis are also plentiful for neighborhoods outside the city center for 30 – 50 cents.
Safety:
Cusco is a safe and friendly city compared to other areas of Peru, and as long as you stay away from poor neighborhoods you should have no trouble. (If you ever feel uncomfortable, you can always take a taxi.) Try not to be conspicuous with large amounts of money or expensive jewelry, phones or cameras, and keep your passport locked up at your hotel if possible. Street vendors can be very persistent when approaching to hawk their wares, but if you tell them, "No, gracias," and keep walking, they'll get the message. Cusco is full of stray dogs who are harmless (if grimy) as long as you don't harass them. Similarly, Cusco, like much of South America, has a different standard of hygiene than most western countries. Street food and food cooked in the back-room of someone's house, while delicious, can have questionable origins. So if you have a weak stomach or immune system, you may be better off sticking to the more expensive, tourist-catered restaurants.
Health:
Cusco sits at an elevation of 10,000 feet above sea level, making it one of the highest cities you are likely to visit. Acclimatization to the height can take travelers a few days, and Cusco's steep hills can aggravate altitude sickness—to help, drink coca tea, which can be bought in the San Pedro market, or chew coca leaves. The water in Peru isn't potable, so make sure to drink only bottled water. If you do end up getting sick, there are plenty of pharmacies that offer over-the-counter medicine. If you're allergic to any substances, i.e. penicillin, be sure to ask the pharmacist about it, because it will almost certainly not occur to them to ask you.
Currency:
Peru's currency is the Nuevo Sol, which is roughly a third of the US dollar. There are plenty of money exchanges (cambios) around the city, but you will get a better rate just taking money out of an ATM. If your account is with Bank of America, you can take soles out of Scotia Bank ATMs without incurring a foreign transaction fee. Keep in mind that Peru has a huge counterfeiting problem, so always check your bills for watermarks to make sure they're genuine. Establishments may be suspicious if you try to pay with large bills, and many refuse to take bills of 100 soles or higher.
Language:
Spanish and Quechua. Some tour agencies and proprietors of tourist-aimed restaurants will speak English, but to be able to experience the rest of the city, it will help you to know some Spanish.  Inexpensive private lessons in Spanish and Quechua are offered in many places around Cusco.