In the last six month our van gave us a safe haven. Now, we parked it and left our rolling home for a spontaneous trip to South-America. We travelled from Canada to Peru and exchanged our shelter on four wheels into always changing places to sleep.
We like to tell you about our stay in Lima, the impressions of Cusco and Machu Picchu and our surf trip to the Pacific coast at Huanchaco, a small town near Trujillo.
The capital City of Peru
Our flight from Canada arrived in Lima. More than 7.5 million residents live in the capital city of Peru. We started our adventure at a friendly host we found at the Couchsurfing platform.
Jorge picked us up at the airport and showed us his home district. His family gave us shelter and has been a very friendly and welcoming host to us. We lived with Jorge's family for a couple of days.
A lot of the peruvian lifestyle and culture happens outside. The streets are filled with little stands and many people. As european looking people we sometimes seemed to be a curiosity in the neighbourhood and received some intensive glances.
But when we talked to people, everybody was very friendly and helpful. Girls came to us and asked what we were doing, a little boy got super excited when he saw us with our surfboards in Jorge's district.
Unfortunately, our spanish skills are very limited, enough for ordering and getting through, but not exceeding a basic small talk. If you ever plan on travelling through Peru, we suggest to learn some spanish prior to your trip. Most people do not speak english very well, and you will miss a lot of conversations with kind people. We'll definitely continue to expand our skills with the help of Duolingo.
At the main tourist district you see a lot more of international faces. Miraflores is situated at the coast and there are a lot of hotels, bars and clubs. We went there to surf at the beach and to experience a part of the scenery.
Lima is a pretty big city with a lot of possibilities. But it is a city and is not able to represent what the countryside of Peru has to offer.
Couchsurfing in Lima
Miraflores Beach
Leaving Lima and getting to Cusco
When we thought of our trip to Peru, we did not plan too much. All we had was a flight to and back from Lima and some couch surfing contacts. Most of the time we go with the flow and listen to what people we meet along our way recommend.
First, we did not plan to go to Machu Picchu. But everybody we met, told us that it is a must to see the old Inca site when you are in Peru. That's when we decided to dip into mass tourism for a bit.
The starting point for excursions to Machu Picchu is Cusco. To get there from Lima you have two possibilities. The first one is taking the bus. It is a more than 20 hours drive and costs around 60 to 80 US$. Because of our limited time we preferred to go by plane.
Depending on the time you like to travel and some luck there are always some affordable domestic flights available. With some flexibility and patience you can get flights for under 100 US$ (roundtrip).
The main flight companies are LATAN, Peruvian and Avianca. We booked our flights at a local travel agency called NM Viajes.
Read further to hear why we do not recommend to get the tickets at a local agency without any restrictions.
Silence at Machu Picchu
PeruRail Train to Machu Picchu
Dinner at Ollantaytambo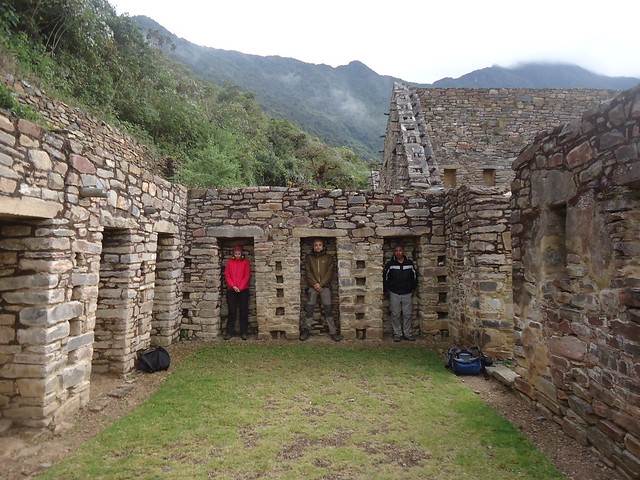 Getting to the Inca Empire
Getting to the old Inca site Machu Picchu is not cheap. The only way that leads to Machu Picchu is a railroad track. As a result you have to use the train if you do not want to accept a hike of several days which includes the classic Inca trail.
There are different train companies that offer a transit to Machu Picchu. We booked tickets at PeruRail. Their prices are comparable to the prices of Inca Rail. If you like to spend some more money you might like to choose a luxury train by Belmond.
The cheapest train is running just for locals and you need to have a peruvian ID card to travel with it.
We went by Minibus (operated by private persons) from Cusco to a small town called Ollantaytambo (Google Maps). It is situated at a height of 2,792 meters and has a train station which gives you access to the mentioned train routes.
When you reached the Machu Picchu village by train you have to get a pass for the old Inca Site. To reach the Inca site from Machu Picchu village you have to hike 2 hours per direction or you spend money, again. The bus costs you around 25 US$ for both ways.
Machu Picchu and the Crowds
The Inca site Machu Picchu itself is impressive. It is listed by the UNESCO as a world heritage since 1983. We spent a while to get through the entrance gate.
A negative point about visiting Machu Picchu was the fact that the site was packed with tourists. Of course, it is great that almost everybody is able to visit Machu Picchu. About 90 percent of the total revenue of the entire peruvian tourism industry are generated through Machu Picchu .
Nevertheless, we had mixed feelings when we have been there. We were wondering if it is worth to travel to Machu Picchu and to tread it pathes in multitudes just for having been there. We might have experienced a very busy time frame. It was a weekend and around noon.
At the end we found a silent and not crowded spot where we had a great view over Machu Picchu. Finally, we were able to take pleasure of the ruins and felt a kind of mystical mood.
If you go there, we highly recommend to visit the site very early in the morning or late in the afternoon. It might be worth to stay for a night at the village of Machu Picchu to leave early in the morning to the site.
Comfy flights to Trujillo
From Cusco we flew back to Lima where we took the next flight to Trujillo – a city in the north of Peru. When we checked in our luggage we were wondering why our bags got an extra red label saying "Priority".
As soon as we entered the plane we recognized that we would spend the flight time in nice comfortable seats. We had no idea why we were sitting in the business class! Nevertheless, we enjoyed the legroom and a delicious dinner.
After our arrival in Trujillo we checked the bill for the domestic flights. Actually, the friendly saleswoman at the travel agency sold us business class seats! The flight was not too expensive, even cheaper than the flight to Cusco. At least, we have no idea what happened. An error in the system? Was the price the same compared to economy class? Did the saleswoman cheat us? Could we have get a cheaper flight for economy class? We will never find out.
Surfing at Peru's Pacific Coast
Surfing is really awesome in Peru! The Peruvian Pacific coast is very long and offers a lot of nice spots for surfing. We have been at a local beach in Lima as well as in Huanchaco – a small town near Trujillo.
Of course, the lineup in Lima is more packed. In Huanchaco the waves have not been crowded at all. We had a lot of space and the mood was quite good.
We stayed at one of plenty surf hostels (Casa Fresh) in Huanchaco. The prices for a night are really affordable and you can rent any kind of surfboard almost everywhere.
As the breakfast was not included in the price for accommodation we used to get our carbs in the morning somewhere else. At the main area of Huanchaco we found the Chocolate Café – a nice little Café with a great variety of different breakfasts.
Where we would like to go at our next Trip to Peru
Our time in Peru was very limited. We had the chance to follow our passion and surfed some waves in Lima and Huanchaco. Unfortunately, we did not have enough time to go to Chicama. It is just a 2 hour drive from Huanchaco.
Chicama is famous for being one of the World's longest waves. At good conditions it offers you the possibility to surf a length of several 100 meters. We were not staying far from Chicama. But the forecast for the only day we could have gone there was not the best. And Chicama needs at least 6 ft to break. So, we decided to stay at Huanchaco and surf the local waves.
On a next trip to Peru we definitely like to check out Chicama.
Also, there are more Inca ruins than just Machu Picchu. Some of them require a multiple day hike through forests. Check out Choquequirao, for example.