One of the first impressions that foreign visitors have of Arequipa is how white the walls of their most important and ancient buildings are, which is why it is known as the "White City".
The first impression is that the religious buildings are constructed from marble and the houses of limestone, but later we learn the truth:  they are made from ashlar, a type of white volcanic rock extracted from the quarries of the volcanoes Misti and Chachani, natural monuments that are vigilant over the highland horizon.
This custom was not inherited from the Spaniards, as was thought of not too long ago. The ancient inhabitants of the Chili River valley, that crosses the current Arequipa, already handled the techniques for working the ashlar quarries way before the arrival of the Spaniards.
At the beginning of the Spanish conquest, the colonists brought their own implements to construct buildings in accordance with the techniques that they were aware of, like adobe, stone and wood; and they tried to prohibit the use of ashlar in public churches.  However, the earthquake of 1582 and the difficulties encountered by the Spanish stonemasons in trying to reconstruct the city in the ancient manner, forced them to use ashlar and adapt it to their baroque tastes.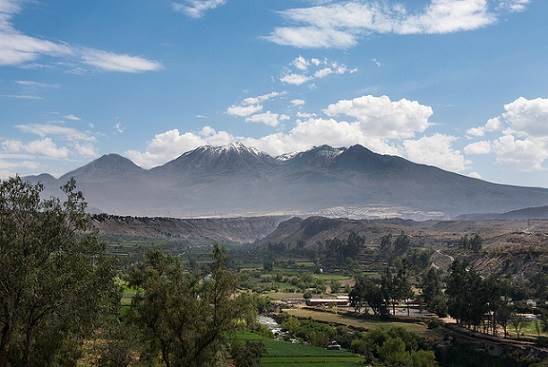 A great example of this is the construction of the  Compañía de Jesús church, made completely from ashlar in the European Baroque style, began in 1595 and completed in 1698.
The Arequipan ashlar is found in various hues ranging from radiant white, utilized mainly in religious buildings, to ash gray, utilized in ancient houses. In spite of its initial rejection, it was became the preferred material of the Spanish sculptors since the porousness of its composition made sculpting details upon it very easy.
In order to protect the city from earthquakes, the stonemasons combined Incan techniques with their own knowledge, preferring to construct farms of only one floor with thick walls and domed roofs, discarding the European custom of span roofs which did not offer a lot of resistance towards telluric movements.  The well known "rain of tiles" of the 1604 earthquake was the turning point when the Arequipan roofs began to have a drainage system in order to eliminate the water welled up by the rains.
Currently, the typical Arequipan dwelling, has fallen by the wayside to make room for the construction of lofty buildings, but the city's monument zone has remained intact, since for the people of Arequipa, ashlar is a factor of their identity.