We know that figuring out the best Peru trek for yourself is quite a process, especially with so many options out there aside from the traditional Inca Trail.  We've put together a short guide that should match your group with your ideal trek.  We focus mainly on treks that include Machu Picchu (or are so close to Machu Picchu, that you can easily add-on one day to see the ruins), but there are some other options if you really want to get off the beaten path.  So whether you've never hiked before or this is your 200th trek, we've got you covered. 


IF YOU'RE . . . .

Psyched for the best classic Inca Trail itinerary: If you want to fully enjoy your Inca Trail trek, skip the four-day version and go for the five-day trip.  This allows you the best possible camp sites; more time to explore ruins along the way; and a full, well-rested day at Machu Picchu.

Broken-hearted that Inca Trail Permits are sold out: There are lots of 4 & 5 day trek options for you: Salkantay, Salkantay-Chillca, Lares Valley (or Weaver's Way), Cachicata, and Choquequirao.  Lots of guides and travelers consider these treks superior to the classic Inca Trail; plus, you won't be trekking the same trail that 500 people begin every single day.

In love the idea of trekking, but hate camping:  If sleeping in a tent is unappealing, then you should focus on treks with overnights in lodges or hacienda.  The Salkantay Lodge-to-Lodge trek is a great bet for those seeking comfort along with a challenging hike.  The Sacred Valley and Machu Picchu Trekking trip is a less-demanding trip with lots of hacienda options to fit your budget.

Short on time:  There are lots of one or 2-day treks all over Peru—the country is truly a hiker's paradise.  If you want to see Machu Picchu too, you should do the Inca Trail 2-Day (actually one day of hiking and one day at the site) or do another short nearby hike and add-on a day at Machu Picchu.  Other hikes include Huchuy Cusco, Maras/Moray, Cusco ruins hiking, Mandor Waterfalls, and Pumamarca to Ollantaytambo.

Traveling with children (younger than 13):  The Lares Valley Trek (Weaver's Way) is a great option because the distances each day can be modified (vans will meet you at certain points along the trek) and you'll run into lots of locals kids who may want to play some soccer along the way.  The Sacred Valley and Machu Picchu trekking trip is also a good option because you're doing day hikes, which can be easily modified for your group, and over-nighting in a hacienda each night, instead of camping.  The 4-Day Inca Trail is not a good idea because once you're on the trail, there is nowhere to get off until Machu Picchu.  But if you want to do the shorter Inca Trail, the Family Adventure Peru is a great option.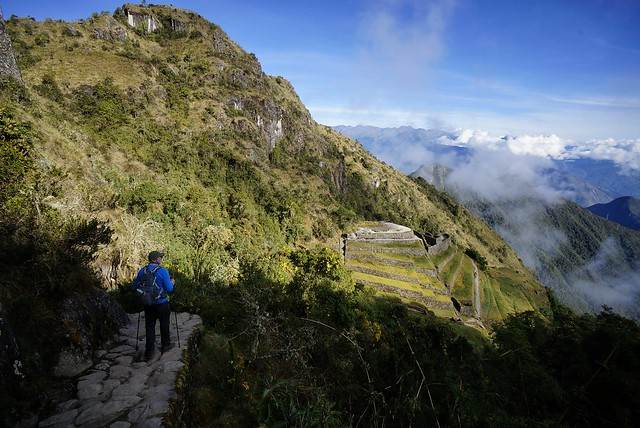 Excited to hike, but need to take it a bit easy on the knees:  For those with questionable knees or an old injury, the Sacred Valley and Machu Picchu Trekking trip is the best bet.   Each day is adjustable and you'll have time to recuperate.  You should also consider a slightly easier one-day hike, such as Maras Moray, Cusco Ruins Hiking, or Mandor Waterfalls.

Dead set on hiking right into Machu Picchu:  The classic Inca Trail is the only trek that will deliver you straight into Machu Picchu without taking a train or bus after your trek.  The permits for the Inca Trail sell out months in advance, so you really need to plan ahead for this one (once the permits are sold out, they're gone).  Again, you can always visit Machu Picchu right after any of the alternative treks, so don't be too quick to dismiss those options.

Ready for a serious challenge:  You're a well-seasoned hiker ready for the best Peru can offer and the typical Inca Trail doesn't sound up to snuff.  We highly recommend the Choquequirao to Machu Picchu 9-Day Trek; Ausangate Circuit; Cordillera Blanca Trek; and Mollepata to Inca Trail Trek.

Looking for other activities around Cusco and Machu Picchu:  While Peru's great for hiking, you shouldn't miss out of the great mountain biking, whitewater rafting and horseback riding in the area.  The Multi-Activity Peru is a great way to incorporate a variety of adventures while visiting Machu Picchu.  For a more relaxed cultural experience with a bit of hiking, the Inca Llacta trip is a great mix of tours in the Sacred Valley, Cusco and Machu Picchu.  Also consider adding on one of these adventures:  Apurimac Rafting, Bike the Andes, Urubamba River Rafting, or horseback riding through the ruins outside Cusco.

Convinced you can skip the rest day in Cusco before your trip:  You cannot skip the 24 hours of acclimatization before your trek.  Altitude sickness is a serious condition and if you don't prepare yourself, it's potentially fatal.  Prior to your trek, you need to stay put in Cusco (or another city of similar altitude, like Puno) for 24 hours at least, but 36 hours is ideal. 

Planning a last-minute trip:  The Inca Trail is probably out for you.  The Inca Trail permits sell out months in advance and once they're gone, it's not possible to buy one from another traveler or get it from another travel agency.  It's all very tightly regulated by the Peruvian government.  The good news is that all the other treks in the area don't require a permit so you can certainly book them at the last-minute.  It doesn't hurt to check with Detour about the number of permits still available (we have access to real-time permit availability provided by the Peruvian government), so don't hesitate to ask us.  Just keep in mind that you'll probably have to go with an alternative trek.

Interested in Hidden Gem Hikes:  The Inca Trail is such an international star that most travelers don't realize Peru offers many other treks on par with anything you'd find in the Alps or Himalayas.  The Choquequirao trek takes you to Machu Picchu's sister city which is only accessible by foot.  A trek in the Cordillera Blanca is well-worth the travel time to get there, this range boasts the most beautiful peak in the world (apparently there are official rankings for that sort of thing) among other stunners.  The trek around Ausangate, either the complete circuit or the shorter 6-day version, is just south of Cusco and is considered far superior to the Inca Trail.  Lares Valley is surprisingly empty of other travelers, despite its incredible scenery and proximity to Machu Picchu.  If you like the idea of an alternative hike to Machu Picchu, but the Salkantay trek sounds a bit too crowded, try the Salkantay-Chillca version which splits from the main trail and takes you over the pass into the lovely Sacred Valley.  For those with more time, the Espiritu Pampa trek is about as off-the-beaten-path as it gets; the true "last city of the Incas" is still being excavated and you'll be surprised to find one other hiker while en route.

New to hiking: If you have lots of time to get in shape, you can really do any of these treks.  None of them are technical so any reasonably fit person can tackle them (think really fit for the longer treks though).  If you're not quite motivated to hike for 8 hours a day, a one-day moderate hike in the Sacred Valley and other activities (like rafting) would be a great option for you.

Excited to meet locals and observe traditional Andean life:  If you want some interaction with locals or wander through traditional Andean villages, stay away from the Inca Trail.  Access to the traditional Inca Trail is highly, highly regulated so you don't get locals running back and forth, going about their daily business on the trail.  This is definitely a part nearly of all other Peru treks.